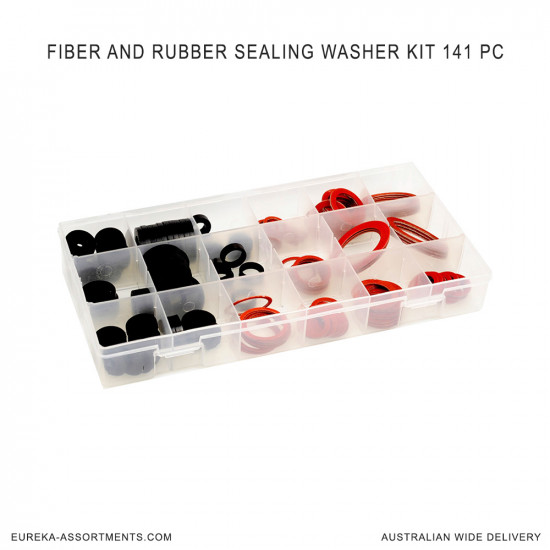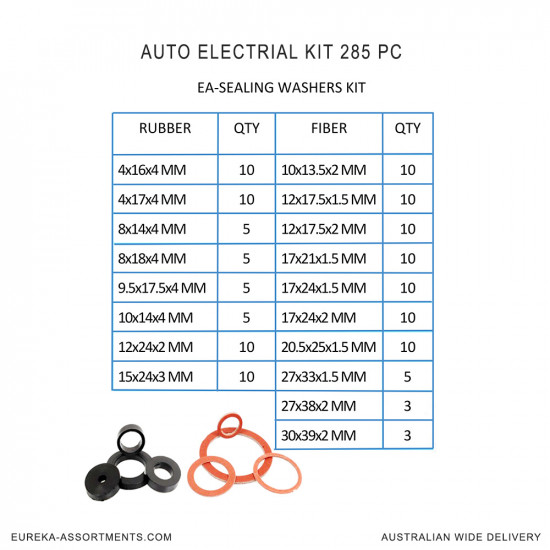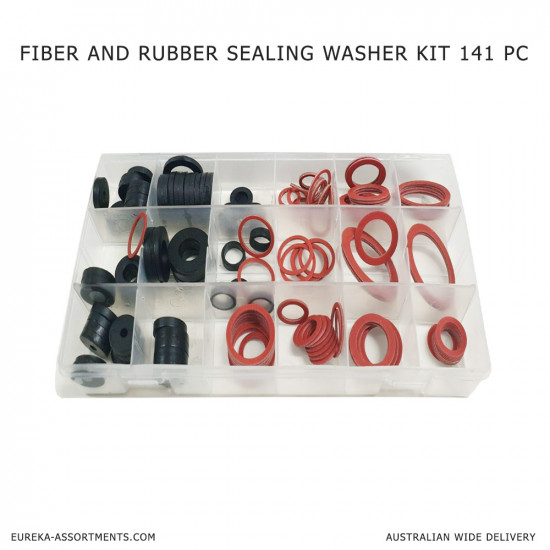 Review
Fiber And Rubber Sealing Washer Kit 141 pc
Model:

Automotive

Weight:

0.13kg

Dimensions:

210.00mm x 108.00mm x 28.00mm

SKU:

EA-SEALING WASHERS

MPN:

048AA
Fiber And Rubber Sealing Washer Kit 141 pc
Sealing washers unlike copper washers are made for repetitive use. These washers can be used with many types of liquids and greases. These washers have good insulation properties and are non-conductive.

Fibre washers are used in tap connectors & some washing machine hoses because the fibre swells up when wetted & seals better.

Eureka Assortment Fiber And Rubber Sealing Washer Kit 141 pc
 
(10) 4x16x4mm
(10) 4x17x4mm
(10) 8x14x4mm
(5)  8x18x4mm
(5)  9.5x17.5x4mm
(5)  10x14x4mm
(10) 12x24x2  
(10) 15x24x3mm
(10) 10x13.5x2mm
(10) 12x17.5x1.5mm
(10) 12x17.5x2mm
(10) 17x21x1.5mm
(10) 17x24x1.5mm
(10) 17x24x2mm
(10) 20.5x25x1.5mm
(5)  27x33x1.5mm
(3)  27x38x2mm
(3)  30x39x2mm
Are Fibre washers better than rubber?

Widely used in many areas of plumbing, fibre washers tend to be somewhat easier to compress than rubber or nylon versions. In terms of causes for replacement, whereas nylon will eventually wear out, and rubber will split or crumble, vulcanised tap washers tend to break down or begin to rot away after extended use.

What are fiber washers good for?

Fiber washers are great insulating spacing solutions. They can be easily incorporated within a fastener assembly to create a light-duty seal and deliver reliable cushioning between a screw, bolt, or other fasteners.

Vulcanized Fibre is a laminated plastic composed of natural cellulose. Vulcanzied Flat Fibre Washers made from this material is an excellent alternative in many applications.
The right seals and washers to use in plumbing the fibre or the rubber ones.
 

Fiber And Rubber Sealing Washer Kit 141 Pcs  (EAFD-6044)