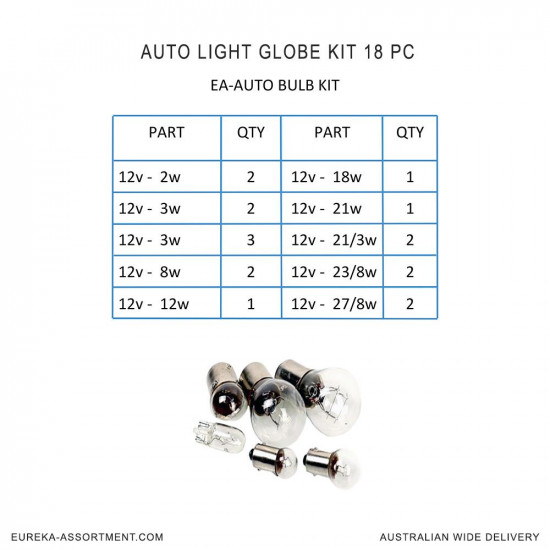 Review
Auto Light Globe Kit 18 pc
Model:

Automotive

SKU:

EA-BULBS KIT

MPN:

048AA
Auto Light Globe Kit 18 pc
The light bulb replacements are for general applications such as T5 size and shape, and wedge base used in push-button interior lights. S-8 size and shape, double contact bayonet base for park and combination light. And B6 size and shape, single contact bayonet base used in indicators.
Eureka Assortments Catalogue PDF
Eureka Assortment Auto Glob Kit 18 pc
(2) 12v - 2w
(1) 12v - 18w
(2) 12v - 3w
(1) 12v - 21w
(3) 12v - 3w
(2) 12v - 21/3w
(2) 12v - 8w
(2) 12v - 23/8w
(1) 12v - 12w
(2) 12v - 27/8w
How to replace broken glass bulbs in the car. Click Here!